When it comes to overall health, prevention is always better than cure. That is why procedures are being revolutionized for early detection of possible diseases that are developing. We at The Holistic Dental Center find Kavo Diagnodent to be especially useful. That is why we recommend the use for diagnosing decay at its earliest stage.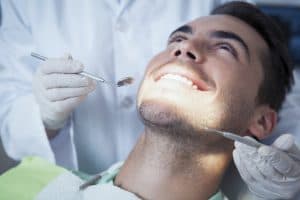 What is DIAGNOdent?
A Diagnodent is a device developed to detect the earliest sign of decay before it even causes problems. The detection of a cavity is challenging especially to those areas that are not fully visible to the naked eye or even x-rays.
How does DIAGNOdent work?
A Diagnodent is a pen-shaped detecting device that emits a high tech laser fluorescence that is used to scan each tooth for possible decays. A dentist can distinguish an affected tooth structure since when the laser scans it would show fluorescence. As to a healthy tooth, the fluorescence shown is little to none. The Diagnodent will measure the amount of fluorescence to each tooth, and with the aid of a small countertop unit it would record and produce a digital readout to inform the dentist that tooth that is infected and needs attention.
Benefits of DIAGNOdent
It allows the dentist to perform confidently knowing the extent of the developing cavities.

It allows a thorough investigation of areas that are hard to see or reach

A completely safe, comfortable, and painless procedure

Cost effective in the long run

Reduces future dental procedures

Known to be more accurate than other diagnostic tools

There will be no radiations involved from X-rays

It does not require probing and scraping of a tooth that is suspected for decay

It can be used before undergoing sealants to make sure that there is no decay present on the deep grooves of the molars

It can help in preserving a greater amount of tooth structure by detecting caries early
With the help of DIAGNOdent which detects the earliest stage of tooth decay, a plan can be formulated by the dentist for the treatment of the developing decay. The procedure ensures the prevention of further damage to your teeth's structure.
You deserve outstanding dental care services. We provide DIAGNOdent for a more accurate, comfortable, and pain-free Early decay detection in Spokane. Book your appointment by calling us at (509) 557-7549 and let us help you achieve a beautiful and a healthy teeth!